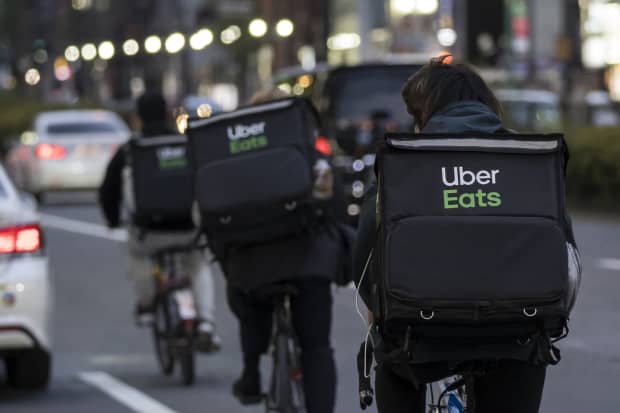 American Express
AXP,
-4.06%
is expanding the slate of benefits it offers to select cardholders through a partnership with Uber
UBER,
-3.42%
in an effort to keep existing customers happy as the pandemic cancels people's travel plans.
Beginning this week, people who have the American Express Platinum, Gold and Green cards in the U.S. will have access to a complimentary Eats Pass membership with Uber Eats. The 12-month membership offers unlimited fee-free deliveries from restaurants, 5% off restaurant orders and free deliveries for grocery orders over $30 in select markets.
The Uber Eats membership typically costs $12 a month, and card members must enroll by Dec. 31 of next year to take advantage of the offer.
Additionally, starting in 2021, Amex Gold Card members will be given up to $120 a year (or $10 a month) in Uber Cash, which they can use for Uber Eats orders or rides. That's in addition to the card's existing benefits, which include a $120 annual dining credit.
Also see: Venmo's new credit card has personalized rewards — it could affect perks across the industry
Platinum members already received $200 in Uber Cash before
this week's announcement, while Gold and Green card holders received membership
rewards points at restaurants, including takeout and delivery.
This isn't the first change Amex has made to its rewards
offerings since the COVID-19 pandemic began. Back in May, the company announced
new offerings for certain cards including $320 in statement credits for
streaming and wireless bills for Platinum card holders. All American Express
card holders were also given complimentary access to a one-year premium
membership with the wellness app Calm, which is available through Oct. 31.
The pandemic has changed what people want out of their rewards cards
The latest additions to Amex's rewards line-up highlight how consumers' tastes are shifting as the pandemic has dragged on. Many of the top-tier rewards cards — which come with steep annual fees — historically have been oriented toward travel and entertainment. But many of those benefits have gone by the wayside as a result of the pandemic.
"Back in the spring, it felt like everyone was piling into groceries as the top rewards category," said Ted Rossman, industry analyst at CreditCards.com. "As the situation has evolved, we're now seeing more perks around experiences and memberships."
Similar to the perks Amex has added through Uber, earlier this year Chase
JPM,
-2.47%
added $120 in credits for DoorDash purchases over 2020 and 2021, plus $50 in statement credits toward yearly or monthly Instacart memberships.  
Rather than being designed to attract new members, these
changes seem aimed at existing card holders who could be using the pandemic as
an opportunity to reconsider what's in their wallets, experts said.  "For months, we've seen credit card companies
make substantial changes to their rewards programs so they can stay relevant,"
said Sara Rathner, credit card expert at personal finance website NerdWallet. "The
moment a card doesn't meet their needs is the moment they begin to look for
something new and exciting."
The new Uber-related perks won't benefit all card holders equally
Overall, the new benefits from Uber are something of a
stop-gap measure. "It's worth noting that Amex's Eats Pass membership only
lasts a year, so it's not like it's going to last you the lifespan of the Amex
credit card account," said Nathan Grant, senior credit industry analyst at
Credit Card Insider.
Some Amex members stand to benefit more than others from the new perks, experts said.
Read more: 'It's daunting to think about what the consequences will be.' With no stimulus deal, much of America's temporary financial safety net will expire Dec. 31
The Green Card, in particular, was oriented toward travel, transit and dining before the pandemic, Rossman said. The card comes with a $150 annual fee — but among its perks are $100 annual credits for airport security program CLEAR and airport lounge program LoungeBuddy. "If you're a Green card member who uses Uber Eats a lot, the free Eats Pass membership can essentially pay for itself," Rossman said.
For the Gold and Platinum cards, the expanded benefits may not move the needle much, Rossman continued. The Gold Card already had the $120 dining credit, which worked with Grubhub
GRUB,
-2.74%
and Seamless. And the Platinum card is geared toward consumers with a great deal of disposable income who are less sensitive to the high annual fees.
For anyone considering whether to keep these cards, experts cautioned to consider which cards give you the most flexibility right now. "Premium rewards cards charge jaw-dropping annual fees, so you need to figure out if you'll actually use the additional perks the card offers," Rathner said.